Gambling related articles
---
A Quick Guide to Some of the Most Famous Poker Players of the 21st Century
Harry Green.
June 2020.
Do you know who the most famous poker players of the 21st century are? Find out who has made our list here in this article.
When it comes to classic casino games, poker has to be one of the most well-known games. Some people enjoy playing poker with their friends while others will head to their local casino just to win some cash. Poker players are often famous due to the skill involved in this game. Players need to master their 'poker face' and this can be quite tricky to do.
There are a lot of professional poker players, some of whom you might already know about or heard of before. Here, we are going to give you an insight to poker and some of the most famous poker players of the 21st century. Keep reading to hear if your favourite player made our list.
About Poker
Poker is a type of casino table game that requires a bit of gambling knowledge so, if you are looking to play this game as a beginner then, you will need to do some research. This is because you will need to learn the different suits and which card combinations are the highest as well as much more. To play a game of poker competitively, you need at least 7 players however, you can play with fewer players if you are wanting to play a non-competitive game. With poker being a lot more famous in recent years, you can expect to play poker at the casino or online. Sites like Raging Bull online casino and other casinos are offering their own versions of the classic game.
Not only are there opportunities to play poker online and in casinos but, there are tournaments that poker players can take part in such as the WSOP also known as World Series of Poker, European Poker Tour and more. There are also some tournaments that can be played online so, if you are not wanting to travel then, you can take part in them from your computer. Many people only ever dream of taking part in these competitions.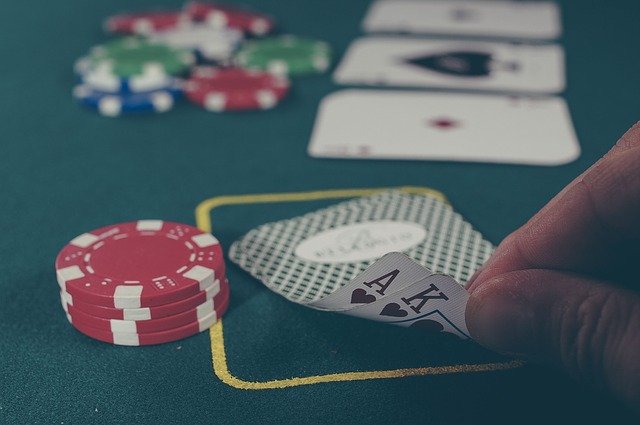 Image source: pixabay
How Players Become Professionals?
Poker players can become professional players by practising and playing in some of the biggest tournaments in the world. Anyone can enter into the WSOP tournament, but you will need to be prepared to travel and pay a fee to enter. There is a $10,000 entry fee and there are thousands of players who take part. If you win out of all of these players then, you could walk away with the $10,000,000 prize that is up for grabs. The winner of last year's WSOP tournament was Hossein Ensan, a 55-year-old from Germany. The more tournaments that you take part in, you will be able to improve your skills and step up to the plate with the other professional players that are famous.
Patrik Antonius
One of the most famous poker players of the 21st century is Patrik Antonius born in December 1980 in Finland. This professional poker player became famous in 2009 where he won the biggest prize in history in an online poker game earning $1.3million when playing against Viktor Isidur. To this day, he is still a very famous poker player regularly seen taking part in tournaments and earning a net worth of $25million. Before he became a professional poker player, he sought out to be a tennis player with a very promising sports career until he had a serious injury to his back as a teenager.
T. J. Cloutier
Another famous poker player that you have probably heard of before is the famous T. J. Cloutier. Thomas James from Richardson was born in Texas back in October 1939. In the entire history of WSOP, Cloutier is the only person to win 3 events in 3 types of Omaha played at the World Series. The net worth of this player is between 1 and 5 million dollars last year; in 2008 he had a net worth of $100,000 to 1 million dollars. Although he is a famous poker player in the 20th century, he is still a very famous poker player to this day with all of the achievements he has made through the years.
Pius Heinz
The next famous poker player of the 21st century is Pius Heinz, a 31-year-old professional poker player from Germany. This player had his claim to fame when he won the 2011 World Series of Poker tournament where he defeated Martin Staszko, a Czech poker player in order to claim the cash prize. Since winning the prize money at the 2011 WSOP tournament, Pius Heinz has gone on to claim a net worth of $9,028,568 in recent years.
Daniel Negreanu
Another winner of the WSOP tournament is Daniel Negreanu, a poker player from Canada born in 1974. His claim to fame as a famous poker player started in 1998 where he was classed as the youngest winner in history. Over the years, he has won 6 WSOP tournaments along with 2 World Poker Tour championships. In 2014 he was recognised as the best player of the decade according to the independent poker ranking service Global Poker Index. In 2018 it was reported that Daniel Negreanu has a net worth of $50 million making him one of the most successful and famous poker players ever.
Keep This in Mind
As you can see, there are loads of different professional poker players, some of whom you may have heard of before and others you may have not. If you like to play poker then it can be fun to look at some of the most famous players and learn how they got to where they are now. From Patrik Antonius to T. J. Cloutier to Daniel Negreanu and more these are just some of the famous faces that you can expect to see in the world of poker. Make sure to keep an eye out for the next big poker stars!
---
Note: Opinions expressed in the 'Articles' section of Smartgambler are those of the guest authors and are not implicitly endorsed by the owners of Smartgambler.
---
Home|FAQs|Disclaimer|Contact Us
©2000 to present. OZmium Pty Ltd. All rights reserved